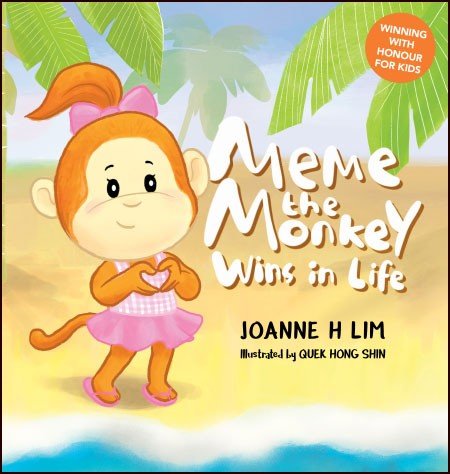 What is success? How does one define success in life? What makes for a successful life?
Meme the Monkey Wins in Life is a story of how Meme the Monkey might not ace her exams, but she wins in life. The book is meant for children up to 7 years old.
The purpose of the book is to urge everyone to think about what "winning in life" means. In a fast-changing world, there are no "maps", so we need a good inner "compass" to guide us in life — this "compass" comprises the values that make us better human beings.
Meme the Monkey Wins in Life is based upon renowned research, such as Maslow's extended hierarchy of needs and Harvard's Grant Study, and opines that:
• Our duty in life is not to ace exams, but to make life better for others
• Doing well in life is all about doing one's best and doing good to others
The book is available at major bookstores/distributors and online. To know more about the book or to order your copy today, visit https://www.worldscientific.com/worldscibooks/10.1142/11656.
A Special Message and Video from the author
I started working on this video in January 2020 to share the thinking behind "Meme the Monkey Wins in Life", but more importantly to share how we can best respond to a Volatile, Uncertain, Complex, and Ambiguous (VUCA) world filled with automation, A.I. (Artificial Intelligence), big data, and digitalisation. In light of the COVID-19 situation, I think that this is a timely message, and I hope that this video will help you live a better life, especially during these difficult times.
---
About the Author
Joanne H. Lim was awarded the Singapore Literature Book Prize (Non-Fiction) in 2014 and is the founder of The Right PerspectiveSG, a consultancy specialising in writing and strategic communications. She is the co-author of The Leader, The Teacher & You, a book on leadership and governance, as well as Winning with Honour, a book on success in life, family, and work. Meme the Monkey Wins in Life is the kids' version of Winning with Honour.
About the Illustrator
Quek Hong Shin is a freelance author and illustrator whose work includes picture books such as The Incredible Basket, Universe of Feelings and The One and Only Inuka. The Amazing Sarong – the first book he wrote and illustrated – was shortlisted for the Hedwig Anuar Children's Book Award in 2018 and Best Children's Title at the Singapore Book Awards 2016. The Incredible Basket won Best Children's Picture Book at the Singapore Book Awards 2019.
About WS Education

WS Education (WSE) is an imprint of World Scientific Publishing Co. Its mission is to develop the highest quality children's and educational products for children, youth, parents and families worldwide.